Submitted by
James
on Mon, 02/13/2017 - 12:13pm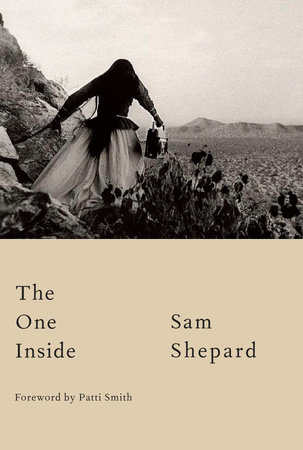 Sam Shepard has been an iconic voice in American Arts and Letters for 45 years. Through his many sharply observed plays, his collections of wry and frequently funny short stories, and his wonderful career as an actor, he has indelibly illuminated our West in all its harsh light. His characters are frequently alone, or hoping to be, and his ear is finely tuned to the hunger for, and wariness about, deep connection be it familial, friend or lover.
His new book, The One Inside, contains familiar characters and situations from his earlier works, but at 73 he has scraped away the excess and left a brightly glowing cinder. It's a book of vivid complicated lives, disastrous choices, and opportunities missed or carelessly tossed away. In other words, Shepard at his sharpest. It is a
terrific read and has the added pleasure of a tender introduction from his old dear friend Patti Smith. (If you want some extra pleasure, Google pictures of Sam Shepard and Patti Smith and enjoy a deep bout of nostalgia and wonder.)
On a personal note, reading Shepard always catapults me back to my own 20s spent mostly in Colorado and the other mountain states. After reading a particular piece in this book, the following rose up in my memory and made me smile. I had not thought of the event in years, and hearing my friend's voice with clarity brought tears to my eyes.
I was in a bar one night in Colorado with a distinctly myth-craving friend, now dead, his first wife, and a couple of other folks. We were in a town none of us knew well in a very Western bar and having lots of drinks and laughter. A conversation between my friend's extremely pretty and feisty wife and a cowboy of 10 minutes acquaintance began taking an ugly turn. As she yanked the fellow's cowboy hat down over his eyes my friend remarked with elaborate casualness (as he pushed me toward the door and salvation), "Jim Ed, let's vamoose, it's going to get real Western here in a minute."
Reading Sam Shepard makes me miss those days, and appreciate how clearly he sees that world.
Thanks, Sam. Keep it going.