Submitted by
James
on Mon, 02/06/2017 - 11:35am
The Refugees
Viet Thanh Nguyen, who deservedly won last year's Pulitzer Prize in fiction for The Sympathizer, has a new collection of short stories aptly titled, The Refugees. These eight sharp and forceful stories are filled with people caught between the dreams of a new life, the sometimes shocking reality of that life,and never-ending dreams of home. Nguyen and his family were refugees that came to America after the fall of Saigon in 1975. As he showed in The Sympathizer, Nguyen is a master at the traps of memory and the hungers of re-invention. He has become an important voice in our national discussion.
In this conflicted time his stories serve as a stark reminder of the struggle and sacrifice that millions of people around the world face as they seek a safe place. You can find a brief essay by Nguyen on Henry Kissinger and America's complicated and devastating history with Vietnam HERE.
You can read an interview about what he is reading HERE.
Yiyun Li
Two years ago I had the great pleasure of hearing Yiyun Li read from her then new novel,
Kinder Than Solitude, which I had just finished and loved. Her reading was quiet and thoughtful, and her responses to the questions afterward seemed to come from a deep shyness that generated, at least in me, a profound sympathy. Because I had read many of her wonderful short stories and one other novel I knew her "public" story. She had come here from China in her early 20s to study medicine and then, in the middle of those studies, perplexedly to her friends and family, she enrolled in the Iowa Writers Workshop with the intention to be a writer. I knew she was awarded a MacArthur Genius Grant, that she taught at Stanford, and that she wrote solely in English. Knowing just those few facts, I was caught off guard by her quiet.
At the end of the event I introduced myself with the intention of asking her about the end of the novel, which I found unsettling and brave in its unresolved story telling. I said, "I want to mention the last two sentences of the book." I watched her recoil and tense while she tried a small smile and managed, "Yes?" I told her how perfect I thought they were, and how brave it was to end the novel with those two stark sentences that left so much unsaid and unresolved but yet were exactly right. She relaxed and said, "Oh, I am so glad you think that. I put them in, and took them out and put them back in over and over. Finally, I just decided they had to stay." I was impressed by her, touched by her tenderness, and hungry for her next book.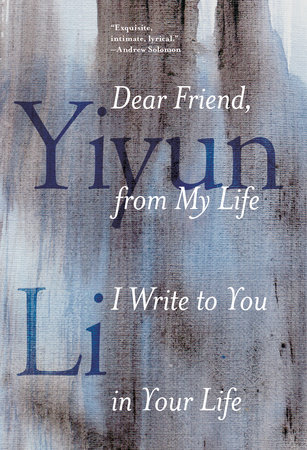 Her new book (out on February 21) caught me completely off guard. It is a collection of essays (her first) that struggle toward choosing to live, that explore complex familial matters, that are deeply personal and that all are a response to a dark year in which she attempted suicide, twice. She writes about all of it with clarity, humility and wonder. She believes utterly in the power and balm of writing. Many of the essays connect with the writers that shaped her sense of literature, and created her yearning to write, including Ivan Turgenev, Elizabeth Bowen and particularly William Trevor. She spends pages seeking sense from her childhood in China, her relationship with her parents, but particularly her mother, and the imagined arcs of the lives of her childhood friends, most of whom she has lost contact with. (You can read one of the essays HERE. And a new short story HERE)
As I worked through the beautifully blunt essays my heart opened wider to take in what she was sharing. They are not sad, but clear-eyed, searching and rueful. We come away feeling, even in her isolation, her gratitude for the personal stories of others that she continued to let in, the writers that fed her soul and offered solace, and for her own hard won sense of learning to stay.
Oh, and the title, Dear Friend, from My Life I Write to You in Your Life, is a line from a journal of Katherine Mansfield's that when Li first came across made her cry. Later she realized it exactly described the impulse to write books, and she knew there was more she needed to share.
It is also the title of the book's initial essay. Here is it's final paragraph
"The train stopped. When a train stops in the open country between two stations it is impossible not to put one's head out of the window and see what's up," Mansfield wrote at the end of her life. This is the inevitability of life: the train, for reasons unknown to us, always stops between a past and a future, both making this now look as if it is nowhere. But it is this nowhereness that one has to make use of. One looks out the window: the rice paddies and alfalfa fields have long been in the past, replaced by vineyards and almond groves. One has made it this far; perhaps this is enough of a reason to journey on."